Today, people are more concerned about their health. Most people like to keep slim figure because obesity will cause many diseases. Such as high blood pressure, diabetes, bone and joint diseases. And the same weight of fat is three times the muscle volume, and an irregular diet can lead to excessive body fat. So for two people of the same height and weight, those with more fat content look fatter than those with less fat. To get a clearer picture of your health, then you need a scale to measure body fat.The Xiaomi digital smart fitness weight BT fat scale is highly praised. What are its characteristics?
Simple appearance
Xiaomi Digital Smart Fitness Body Weight Fat Scale has a simple and lightweight appearance. It uses a milky white ABS plastic body with rounded corners. There are four metal electrodes on the front of the scale, which are in a stylish and lovely shape. This body fat scale uses ABS material for durability and impact resistance. The surface of the scale body uses a non-slip texture.which increases the contact area between the sole and the skin, enhances the friction and avoids the risk of slipping.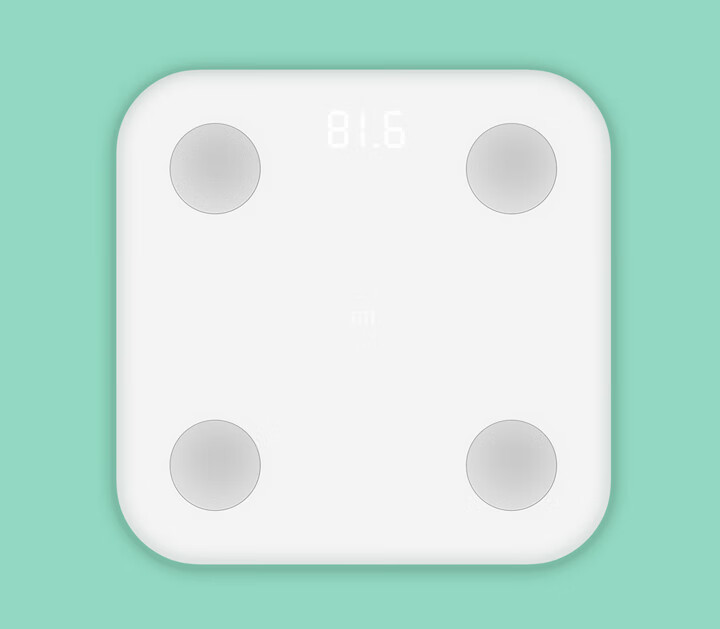 10 body data tests at one time
This is a smart product, and the biggest difference from the normal size is that you can know 10 health data in one test. It can accurately calculate and analyze your body weight, body fat percentage, visceral fat grade, water content, bone mass, BIM, basal metabolism and other data. The visceral fat rating is usually no higher than 5. Otherwise,it may cause diseases such as blood lipids and high blood pressure. The basic metabolic rate refers to the total energy consumed by the human body in a state of waking and extremely quiet. Muscle activity, ambient temperature, food and body pressure do not affect the consumption of this energy. The higher the basal metabolic rate, the more calories are consumed.
APP data is automatically uploaded
When using this body fat scale, it is bound to the Xiaomi Sports APP. Your weight and body fat data will be uploaded automatically, so you can view the test records at any time. And when many people use the same Xiaomi Digital Smart Fitness Body Fat Scale at the same time, it can also identify different people and record their health data separately. Supports up to 16 people to measure and store weight data.