RC models and toys are particularly attractive to young people, whether they are RC drones, RC cars or RC boat models.Most of them are not cheap, so any well-made, well-performing RC product are toys that young people dream of. Usually, we are most familiar with RC drones. So let's take a look at the characteristics of RC boat today.
Original Feilun FT012 2.4G Brushless 45km/h RC Racing Boat
This is a RC Racing Boat with super power. The high performance water-cooled brushless power system ensures high stability of the RC boat in the water. The high-precision servo system makes the speed and steering of the rowing precise. When the boat falls over in the water, it can automatically flip quickly and is very flexible and lightweight. Best of all, this RC Boat has a top speed of 45 km/h for a great driving experience. The 2.4Ghz control system has a powerful anti-interference transmission capability that allows it to travel over long distances.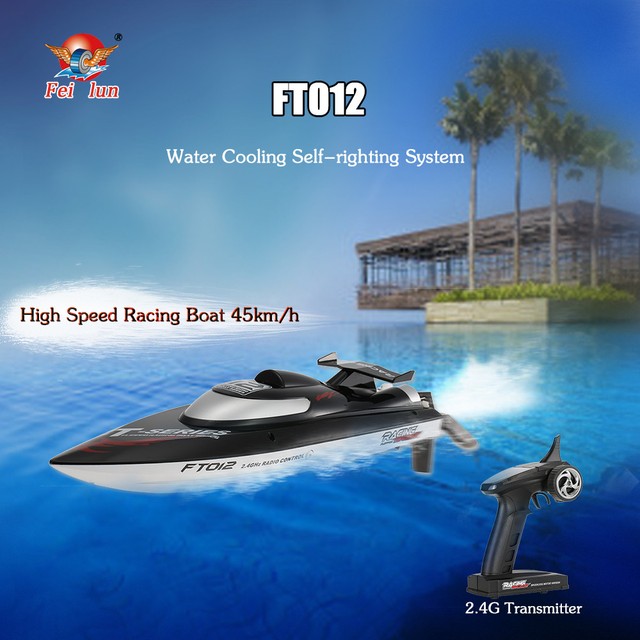 In addition, the OMNI direction supports the hull to do all kinds of difficult movements, forward/backward, left and right rotation, flipping, etc., but you can easily control it. And he innovative look and superb craftsmanship make it popular.This boat has super power ESC, 2815 brushless motor and large capacity lithium battery.The ESC system is designed to prevent overcurrent, overvoltage, low voltage, motor blockage and so on. These features makes the RC Boat longer and more durable. This FT012 2.4G brushless remote control boat is worth buying!
Flytec Intelligent Wireless Electric RC Fishing Bait Boat
If you like RC boats, you will never miss this RC Fishing Bait Boat. First of all, it has a unique design. The RC boat has a streamlined boat back design to increase speed and wind resistance. Second, it has a powerful power support system, dual propeller design, and more powerful. The two pontoon kits that match the hull make the boat more buoyant in the water, less prone to sinking, more wind-resistant and more stable. In addition, the smart remote control makes operation easier and the hull is easier to control. The bait boat can be controlled by the remote control, rotating left and right, and the stainless steel grass-proof gear makes the boat sail more smoothly.
The biggest feature of this RC boat is its ability to load large capacity bait tanks. The double bait warehouse and bomb bay design allow the bait bin to carry 0.5 kg of bait. And it can navigate continuously for long periods of time, providing a smooth hitting bait experience. You can control the high-capacity bait box at will. After the remote controller starts the nesting command, the motor stops rotating and the vessel is at rest to feed the bait. The whole process will not disturb the fish. The front LED lights are designed to work at night and attract fish. The boat can turn left/right, forward and backward, which is great and easy to use. This is a good boat at an affordable price.