(Reporter Zhang Jiongqiang)Do you want to learn to fly an airplane? "civil aircraft training simulator" can make your dream into reality, which is self-developed by Chinese, and first appear in this Industry Fairthe. It allows people to learn to fly an airplane on land.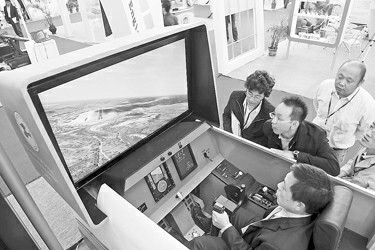 There are Simulator, the instrument panel, joystick, landing gear, turn on the device, communication systems and information systems, as if we go into the cockpit of the civil aviation flights. Get "the captain" position, "driving" civil aircraft taking off, flying through the air, landing, taxiing. The RC helicopter flight simulator can simulate the external environment and the landscape: taking it off, but it's snow in outside, so reminding the driver to pay attention to the safety, then, a little bit of snow will really appear on the screen; plane is circled in the air before landing, tilt of the earth and the little lights on the ground will appear on the screen; when encountering strong turbulence, the power platform of the flight simulator began to shake.
This rc helicopter flight simulator is developed by the Shanghai University of Engineering and Technology, it is mainly used for training students of the project large flight school. A pilot, the vice president of flight school, Xu Baogang just has an experience, "I feel no different between driving real aircraft." It is said that "civil aircraft training simulator" is the requiring lesson before each flight students flying, if students have unsatisfactory performance in the simulator, he will be eliminated to fly. In the past, the flight simulator of domestic flights and airline flight school are all imported from abroad, a simulator should cost more One hundred million yuan, but the cost of this "Made in China" simulator is less in ten million yuan, its equipment performance is comparable the imported products .
Xu Baogang said that this rc helicopter flight simulator also has special circumstances disposal functions in training, the tasks coverage is more than 90% . As long as students on this emulator, they can learn over ninety percent of the flight technology.
Want to concern more information of rc helicopter flight simulator, please visit:http://www.tomtop.com/6ch-usb-3d-rc-helicopter-airplane-flight-simulator_p11741.html?aid=y