Today, pets are becoming more and more popular. Many people like to keep cats and dogs, but the owners of these pets face some common problems. Cats and dogs always depilate,the hair is everywhere. This may make you allergic. And they make noise when it's not appropriate. For example, when you want to rest at night, they will yell, not only affecting your normal life, but also attracting complaints from neighbors. However, keeping hamsters, rabbits and other pets can avoid these problems, but you'd better prepare a small house for them.
Ikayaa 55″ Large Outdoor Wooden Chicken Coop Waterproof Solid Wood Rabbit Hutch must be a good helper for your pets and poultry. It is made of natural fir and iron-plated wire to ensure durability and safety. Lockable door bolts Keep chickens safe at night, also used to clean, feed and extract eggs. The unique design allows pets and poultry to be fed, sleep and play in different areas. With sliding panels, you can easily clean or feed them. Rainproof roofs can be Used outdoors on rainy days, for chickens, ducks, rabbits, guinea pigs, ferrets or other poultry. You really can't miss such a good chicken house!
Large rabbit cage outdoors small house is a quality 2-storey chalet provides a very comfortable place for your pets. It is suitable for keeping all kinds of small animals, especially cute rabbits. It has many uses: it can be used for pet games and sports, or just to protect your pet. This rabbit kitchen provides plenty of living space for your pet, and the tight mesh line helps prevent accidents and malicious behavior and provides your pet with a wide view and fresh air. The rabbit cage is made of a high quality wooden frame, making it a strong and safe fence that can last for many years. Its green roof blocks rain, and the comfortable cube is the perfect place for a rabbit to sleep.
If you like hamsters or mice, this Pet Dwarf Hamster House Wood Cabin is their perfect home. This 2-storey house is airy, cool in summer and warm in winter, with bedrooms, living room, balcony, ladder and Slides are used for them to play and exercise, and they live very comfortably inside. This cabin is made of natural wood and can be chewed safely. Modular construction, easy to assemble, washable and easy to clean. Your pet will be satisfied.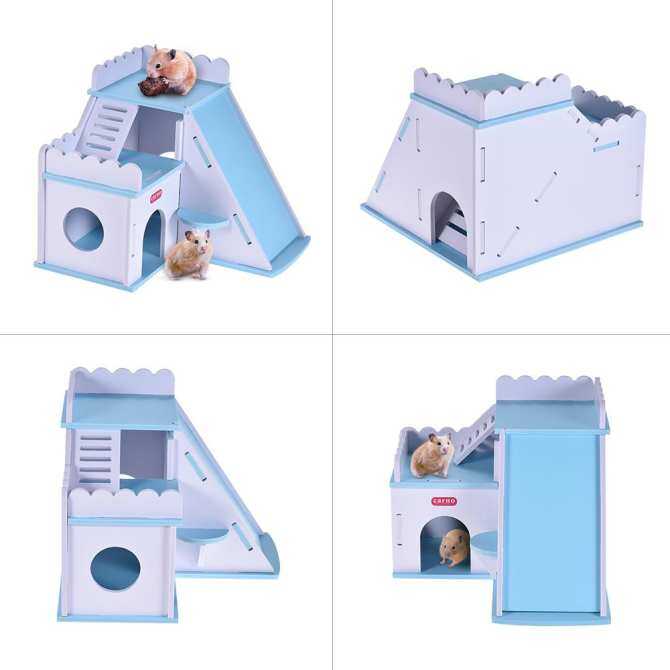 In addition, this Hamster House Home Wooden Hideout Hut Cabin for Pet Rat Mice Chinchilla is also a good choice. This colorful 2-storey pet house provides an ideal hideout for small animals such as hamsters and rats. It is a two-story design with a large space and several entrances for you to serve food. The large space allows your hamster to move freely inside. This house is made of natural wood and can be safely chewed by pets.