With the development of the Internet and mobile terminals, people's requirements for security equipment are getting higher. The cameras in the security industry are monitored by Internet live broadcast, which is convenient for users to watch directly on computers and mobile phones anytime and anywhere,this is the current trend, the current market. The various intelligent Security Cameras come in a variety of styles and shapes, and they are very powerful, everyone is familiar to them, but most of them are large in size, the installation is a bit complicated, and it seems obvious after installation. Compared to these, you will be interested in these light bulb-style Security Cameras.
1080P 360°Panoramic WiFi 200W Bulb IP Camera
This IP Camera is not only a security camera, but also a good LED lighting effect, it has 3 white LEDs and 3 infrared LEDs, infrared LED night vision 5-10 meters, this home security camera Even in the dark and full protection, you can provide a fantastic night experience, you can see the entire room at night, in addition to white LEDs can also be used for lighting, spotlight view at any time of day or night, 24-hour monitoring. It is a 360 panoramic camera that monitors no blind spots and covers the entire room well, monitoring every corner of the home and office. You can remotely control from your smartphone. When someone breaks in or detects any action, the security device pushes the alert message to your phone through the cloud, always paying close attention to it. It is very suitable for holiday home monitoring, baby, pet. monitor.
KKmoon Wireless 960PH(960*960) Mini Panoramic Fish Eye Camera
This project is a HD 960PH (960 * 960) 360° panoramic mini panoramic webcam. It is not only a security camera, but also a luminaire with good LED lighting effects for both secret lighting and surveillance. It occupies very small storage space and supports motion detection. When it detects something moving, it triggers the camera, and it pushes notifications to your mobile app. No matter where you are, with an internet connection, you can view your home status remotely from your smartphone (for Android / iOS) or tablet. It uses 1/3″ CMOS sensor, high-definition display resolution, clear picture quality, 960 * 960 video recording, smoother, space saving. It also has built-in MIC, speaker. This product is very suitable for baby monitors at home, Elderly care and indoor monitoring can also be used in offices,shops, factories, etc.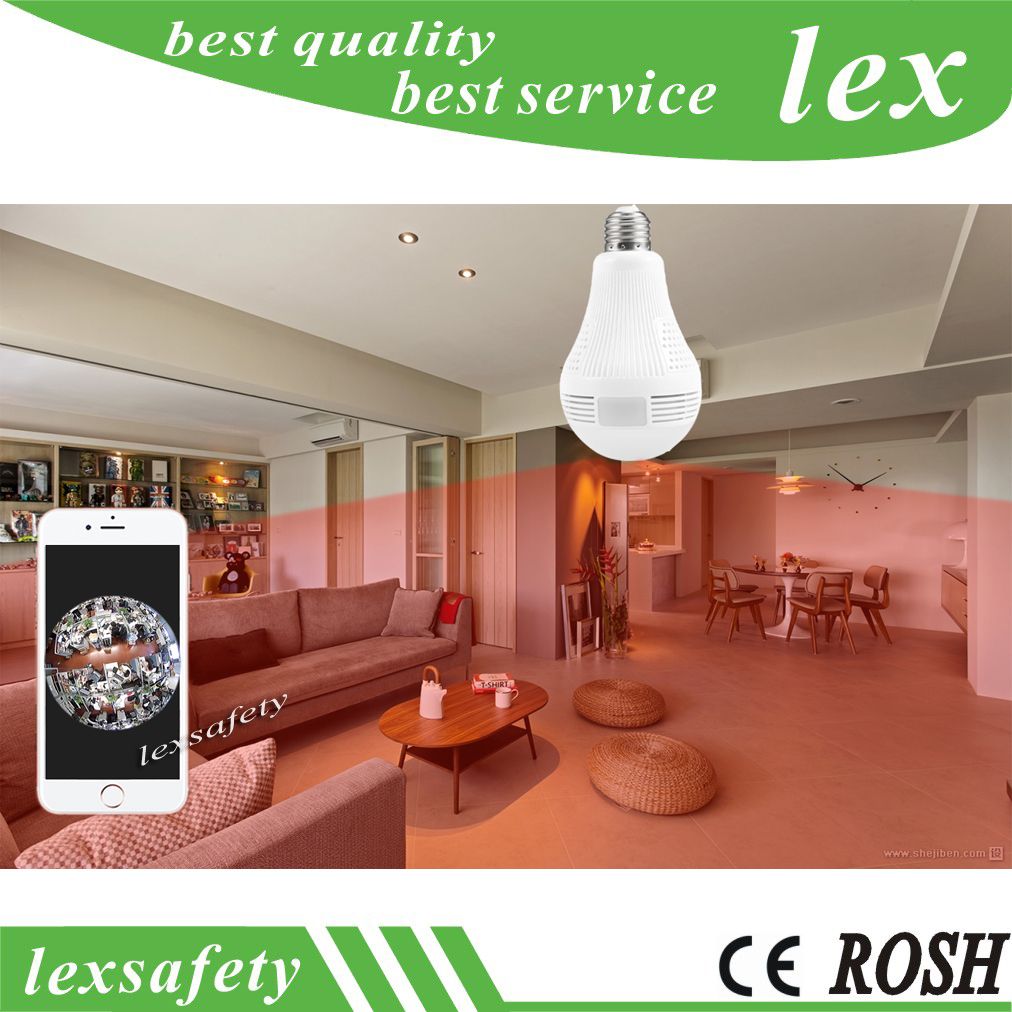 T7 IR Bulb Camcorder Security Camera DVR E27 HD 720P H.264 5.0MP
This project E27 bulb design, easy to install, internal infrared sensor, can achieve good night vision effect, and can automatically switch between day mode and night mode. Resolution and 5.0MP camera for good video recording and shooting, with remote control for easy operation. It features continuous shooting, sound control, motion detection, loop video recording and AV output. Has a good camouflage, and with the lampshade to hide double, while playing a good camouflage effect, so cute and novel security camera you do not like it?